It's time to announce the TMQ MVP!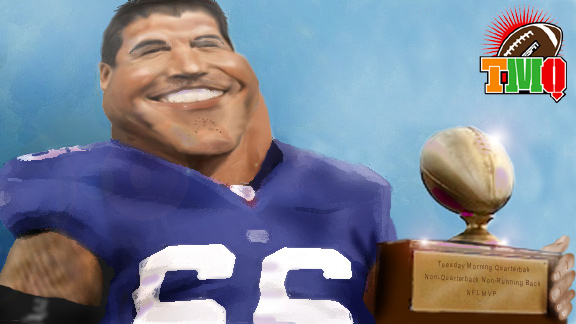 Kurt Snibbe/ESPN.com
Soon The Associated Press will announce the NFL MVP winner, and there's just a tiny chance he will be a quarterback or running back. Fifty of the 53 recipients of the NFL MVP have been quarterbacks or running backs — and defensive tackle Alan Page of Minnesota, in 1971, was the last lineman to win. Likewise, 71 of the 76 Heisman Trophies have gone to quarterbacks or running backs — and defensive end Leon Hart of Notre Dame, in 1949, was the last lineman to win. Football is a team sport, one in which nearly everyone on the field is not a quarterback or running back. Yet these two positions have cornered the market on awards.
Quarterbacks and running backs monopolize recognition in part because like most spectators, most sportswriters and sportscasters never take their eyes off the ball. Ninety percent of football action occurs away from the ball — but most who analyze football for a living don't try to figure out what is happening in line play or coverages. TMQ keeps his eyes off the ball. Try it sometime!
This column tries to rectify the imbalance in the two major football awards by granting an NFL MVP for which quarterbacks and running backs are ineligible. Of course this column believes in other lost causes, such as reunification of Flemish Brabant with Walloon Brabant. Regardless, time for the coveted "longest award in sports" — the Tuesday Morning Quarterback Non-Quarterback Non-Running Back NFL MVP.
The runner-up is Rob Gronkowski of New England. A tight end, Gronkowski has the most touchdowns of any NFL player this season, with 22 touchdowns receiving and one touchdown rushing. Along with Jimmy Graham of New Orleans and Vernon Davis of San Francisco, he has helped redefine the tight end role in a modern offense: as the passer's first option, not the third. Gronkowski presents matchup problems no opponent has so far solved, and in the AFC title contest against the Ravens, also showed he is a good blocker, helping neutralize Baltimore's Terrell Suggs.
TMQ's reservation about Gronkowski is that he treats concussions as a big joke. If Gronkowski is OK with having dementia when he's 50, that is his business. But treating concussions as a laughing matter — especially, suggesting that football players should lie to trainers and coaches about head pain, in order to remain in the game — sets a terrible example for the huge number of high school players who will never earn a dime from the sport.
Now the 2011 Tuesday Morning Quarterback Non-Quarterback Non-Running Back NFL MVP — David Diehl, left tackle of the Jersey/A Giants.
On his best days Diehl is not the NFL's best left tackle, or even as good, athletically, as Matt Light, who will start at left tackle for the Patriots. (Light was the 2007 TMQ NQB NRB MVP, and my award does not allow repeat recipients.) What Diehl brings to the table is consistently high-level performance. He rarely allows sacks, rarely misses run blocks and never takes downs off. Watch tape and you'll see that even in NFL big games, there are an amazing number of downs on which at least one lineman simply brushes his man and then stands there doing nothing. Diehl never stands there doing nothing. He's always working.
Drafted by the Giants in the fifth round out of Illinois, Diehl became an immediate starter at left tackle, and has remained the team's left tackle starter for nine seasons. He has missed only four games to injuries in his career, starting 150 of a possible 154 games. Thus he's not just a good player — he has been a good player for almost every game for nine years.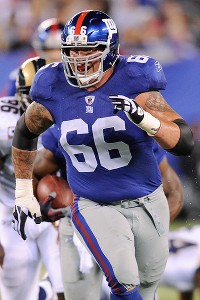 AP Photo/Bill KostrounThe 2011 TMQ NQB NRB NFL MVP.
This year's NFC Pro Bowl choices at offensive tackle are Jerome Bushrod, Jason Peters and Joe Staley. They're all top performers but consider their starts — Peters has started 98 games, Staley has started 68 games, Bushrod has started 49 games. Diehl has performed at a high level significantly longer than any of them.
Offensive linemen tend to be noticed mainly when they blow their assignments. Diehl has started for nine seasons for one of the NFL's highest-profile clubs and drawn hardly any notice: The reason is that he doesn't blow his assignments. Diehl is the kind of player who will never hear the crowd chant his name — but with him at the most important line position in football, the Giants have won the Super Bowl once, won their division thrice, and take the field for the Super Bowl again this coming Sunday.
Congratulations to David Diehl, the 2011 Tuesday Morning Quarterback Non-Quarterback Non-Running Back NFL MVP. Below find the finalists for the 2011 award, and a list of past winner